Merkur 4pc Barber Pole Shaving Set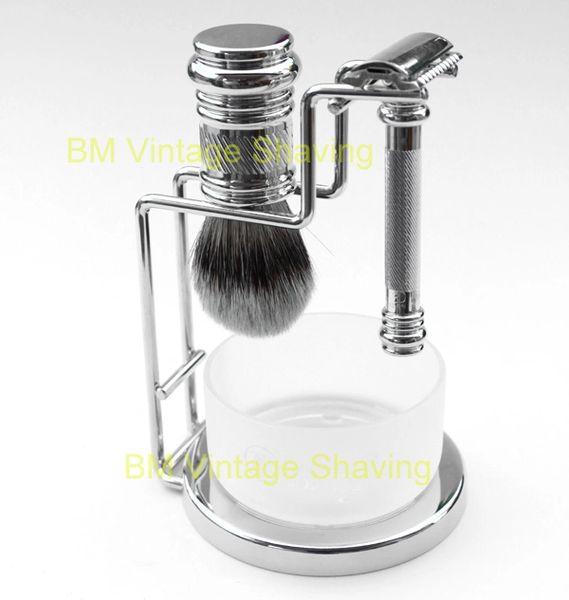 MK 1024
Merkur 4pc Barber Pole Shaving Set
This set consist of:
Merkur HD Safety Razor, Barber Pole Handle
Merkur Silver Tip Shaving Brush, Barber Pole Handle
Merkur Smooth Glass Lather Bowl
Merkur 4pc Set Stand
Merkur HD Safety Razor, Barber Pole Handle
Modeled after American barber poles, 38C the heavy duty brass core chrome plated handle weighs a hefty 4oz, and has a 3.75 in. long handle. The handle design provides an enhanced grip. The head is identical to the other, Classic, non-adjustable razors in every respect.
This razor is Merkur long awaited answer to the need for more weight on a classic design double edge razor.
Merkur Silvertip Shaving Brush, Barber Pole Handle
This Merkur Shaving Brush features a Barber Pole style handle to match the popular Merkur 38c Safety Razor. It is elegantly crafted of classic chrome and densely filled with silvertip badger hair. The handle is designed for comfort and durability. This Merkur Shaving brush has that exceptional blend of style and performance.
The Pure badger hair generates a rich warm lather, bringing sufficient water to the skin as it softens and lifts the beard and gently exfoliates for a comfortable shave. This Shaving Brush is ideal to use with either shaving soaps or creams.
We recommend that after daily use, shaving brushes are thoroughly rinsed in warm water and hang dry in a stand.
Merkur Frosted Glass Shaving Bowl The exterior of this quality bowl is a matte frosted glass texture, while the interior is smooth.
Small rubber beneath helps the shaving bowl to stay. Interior diameter: 3in, interior height: 1.6in, total height: 1.8in
With the Matching Stand, this Merkur Barber Pole 4pc set will look great in any bathroom or better yet, bring style to your bathroom. This set comes polished chrome finish. The Safety Razor, Shaving Brush and the lather bowl are available as individual item also. A Shaving set you can be proud to own for a lifetime.
Imported directly from Merkur of Solingen Germany