Edwin Jagger Chatsworth Double Edge Safety Razor Chrome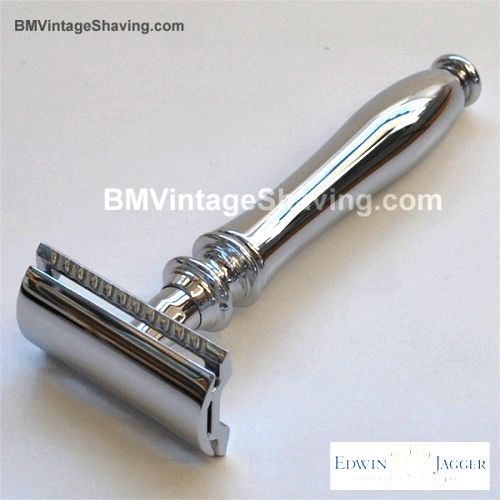 EJ 2014

Edwin Jagger Chatsworth Double Edge Safety Razor, Chrome

Edwin Jagger, Europe's leading manufacturer of finest hand made shaving equipment, has combined modern manufacturing technology and traditional Sheffield hand skills to produce this traditionally shaped, smooth all metal Chatsworth Range. Machined from solid brass, hand polished and triple plated with copper, nickel and blue white chrome. These items are all hand assembled and finished.
The handle style and shape is in the traditional English tradition and is the same as the other Chatsworth ebony and ivory handles, except that this all chrome version and heavier at 3.88 oz. compared to 2.10 oz. on the ebony and ivory handled razors and 2.4 inches in total length.

The flawless traditional style will look fabulous in any bathroom.
Imported directly from Edwin Jagger of England.

DUE TO THE HIGHLY POLISHED SURFACE FINISH OF THIS ITEM REFLECTION DURING PHOTOGRAPHY IS UNAVOIDABLE