Dovo Straight Razor Renaissance Faux Ivory 6/8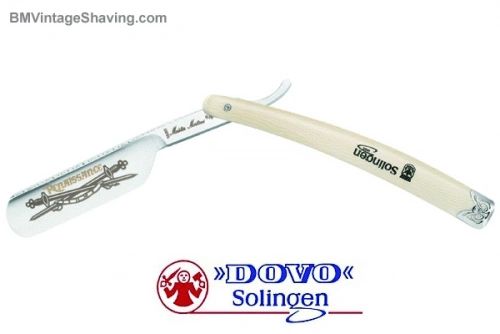 DV 1023
Dovo Straight Razor, Renaissance, N, Faux Ivory, 6/8
This Set is Last few Shaving set available in the whole market
"This shaving set you can't find it anywhere else, Discontinued form the factory"
This Renaissance Straight Razor from Dovo designed as a commemorative edition honoring the city of Solingen, Germany. This Straight Razor is one of their most elegant blade etchings combined with the classic Faux Ivory handle and beautiful nickel plated decorative bolster. 24k Renaissance and Cross Sword etching on the blade. It is certainly a collectors piece.
Straight Razor Blade is 6/8, full hollow ground, ice tempered stainless steel.
It will provide the finest shave possible for many generations to come.
Quality you can count on for a lifetime.
Imported directly from Dovo of Solingen, Germany.
Final sale no return no exchange.