Dovo Nail Clipper and Nose Hair Trimmer - Brown Case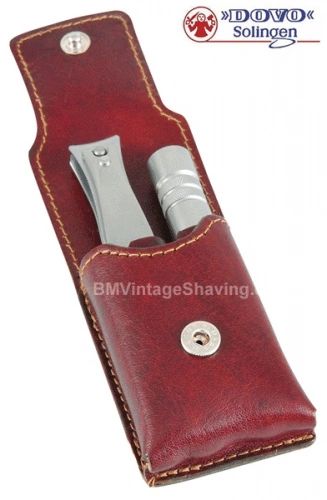 DV 1013


Dovo Nail Clipper and Nose Hair Trimmer, Brown Leather Case, Satin Finish
A pair of deluxe top of the line elegantly styled Dovo Nail Clipper and Dovo state of the art comfort Nose Hair Trimmer. These implements are stainless steel with satin finish. Rust proof, it will last forever.
Comes encased in a protective brown leather case.
Dove Nose Hair Trimmer is non-electric, safe and manageable. Hair is cut clean without being pulled. Simply insert the cutting head on your nostril carefully and twist gently to rotate the blades.
This grooming set is perfect for travel or use at home.
Quality you can count on as long as you have them.
Imported directly from Dovo of Solingen, Germany.