Dovo Bismarck Straight Razor 6/8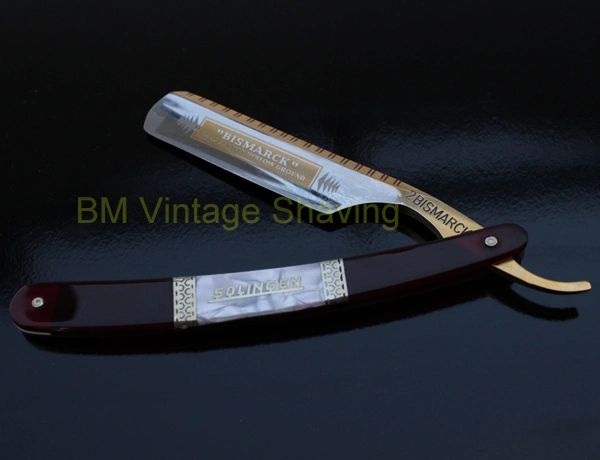 DV 1057
DOVO Bismarck Straight Razor, 6/8"
This Straight Razors last few in stock available in the whole market
"This Straight Razors can't find it anywhere else, Has Been Discontinued form the factory"
This DOVO Bismarck Straight Razor is produced from top-quality Swedish carbon-steel. It achieves the highest degree of hardness, elasticity and resistance to wear.
Handsome celluloid reddish black handle with faux mother-of-pearl ornament.
The blade is inlaid with an attractive 24K gold emblem reading "Bismarck - Best German Hollow Ground". The mirror finish blade also features gold plating of the entire spine, shank and tang. Hand-ground 6/8", Full Hollow Ground blade. This razor comes in a sealed gift-box. Once the seal is removed and/or broken, the razor is considered to be used and cannot be returned as an unused item as per our return policy.
Imported straight from DOVO of Solingen, Germany.
This items no return no exchange